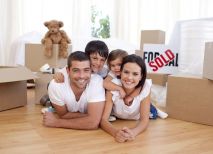 Compare the Services of the Removal Firms in Kensington
18 June 2014
Moving house is widely considered one of the most stressful things a family can do, and if you are the family member in charge, then your problems will be twice that of the rest of the family! Using the right Kensington removal firm will decrease the problems associated with moving, but how do you know which one is right for you? We will give you some handy hints and tips to get you on the right track towards choosing the perfect removal firm for you and your move.

Firstly, get to know the different types of move that you can do. Some firms will only offer the standard of turning up in a van, picking up your boxes, and transporting them to the new place and unloading. Most firms nowadays however, will offer full services that will include a home visit to gauge the size of the job, as well as packing down and unpacking, storage and extra transport. You may know that you have a great deal of work to be done, and very little time off of work, and therefore will need one of these full services, but they will not come cheap. Consider the amount of time that you will save by getting a firm in from start to finish, and compare the cash saved with the quote, does it make sense? Can you haggle the price down enough to make the cost viable? If so, then make sure that you have compared the quotes for a decent number of firms to be sure that you have got the best possible price. If you haven't already checked, be completely sure of any possible hidden costs. There may be extra charges for days which over run, and items that are over a certain weight, which they may not tell you about until after the move when you are settling up, which is obviously a pain. These sorts of charges are often the way in which a firm can offer a lower quote, or throw in extras for free, making the deal seem great, but actually stinging you at the end.

Being aware of these things and getting them sorted are half the battle. Once you have chosen your mover you can get things under way with the move its self, but do not let your self be fooled in to thinking that that's where it ends as far as your consideration for the movers goes. While the move is going ahead you must be vigilant with the staff of your removals team, to make sure you are getting the best bang for your buck!

Brief the staff extensively on how you want your move to happen, and talk with the head of the team about how that works with his plan and the company's codes of practice. Draw up a plan of the new house and show where each item of large furniture should go, so as to get things in position straight away, and prevent you having to do any heavy lifting later on. Watch your removal staff for conduct, be sure that they have the adequate amounts of men for each lift, according to how heavy the items are. Watch out for how they move large objects through each house, and be aware of any marks in paint or damage to the property in general. Should you feel like the team were less than impressive, or even bad, then you need to have examples of incidents, and some evidence that such things affected the move, as companies will be unwilling to part with their money!