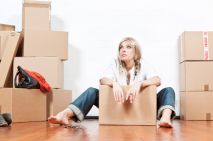 Moving into a new place? Here are some things you should do before and after your big day
18 June 2014
When moving day is approaching, it is time to arrange some things. You can choose between a couple of ways on how to move. No matter which option you choose, it is important that you pack your things properly. Use sturdy boxes. It is expensive to buy new ones so you can either go to your local shop or ask a friend to borrow. Before moving in, it is good to get to know your new area. Find the nearest bus stop and supermarket for example. If you have moved into an apartment, it may be advisable to visit the laundry room and find out about the booking procedures and hours apply etc. Explore any common areas like a sauna or gym. Investigate how waste management works, where do you throw different things and how should it be sorted? The landlord and the municipality are usually able to give you all the information.
How should you move your stuff then? Moving Companies are the most convenient but usually the most expensive option when you want to move. The advantage of hiring a reputable moving company is, except that it is comfortable, that the move is insured in case something would happen. Compare prices between the different companies, and also what is included in those prices. It is not certain that the cheapest one is best. If you have a friend or relative who has hired a moving company recently, it may be a good idea to consult with them which company was hired and the result.
Self-relocation is usually cheaper, but it requires some hard work and time. If you do not have a large van or similar, it's not that expensive to rent, with a suitable relocation vehicle you'll be saving time (and gasoline) because you do not have to drive back and forth multiple times. Also ask family and friends to help and thank them properly afterwards by making them dinner or something like that.
Once you have gained access to your home you should, before you move your stuff, inspect the place. If you bought a house or apartment, you should check that everything is properly cleaned and that nothing has deteriorated since you made the proper investigation of the actual purchase. Any shortcomings and errors should be resolved promptly with the seller, the more time that passes the less chance you have to get it right. If you move into an apartment you should check the cleaning and if something is broken or if the flat doesn't live up to an acceptable standard. If not, report this to your landlord immediately. If the former tenants final cleaning is not acceptable, the landlord can either let you clean up (for that you should get deduction on the next rent) or the landlord takes care of it themselves. If there is any torn wallpaper you should also complain to the landlord because he has a maintenance responsibility which includes wallpapering. However, you cannot require the landlord to pay for new wallpapers if you do not like a particular color or something like that.
When most of the move is complete, it may be time to think about your new neighbors and introduce yourself. It can be nice to get to know new people, and your neighbors are a good start. They are perfect if you are out of milk one day etc. and it makes asking much more easier if you have a good relationship with them.