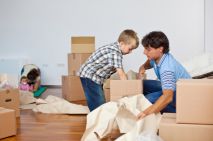 Moving To Richmond in Summer
18 June 2014
Moving house is a big experience that becomes one of the most memorable events in a person's life for sure. When you have to move house within your desired timeframe, things are much more manageable and much easier, but if it's not up to you to choose the exact time, then it gets a lot harder. The busiest time for all kinds of moves (domestic and office) is during the summer months. The reasons for that are various. The biggest factor is that the weather is nice and warm, although it depends on the area of living. Another reason is that children are on summer holiday and this makes the shifting from one location to another and therefore to a new school much easier. Moving in summer (from the month of May until September) is popular, but it's also the most expensive time for a move, when prices go up and it's hard to find an available mover. If you want to move in summer, you need to start planning the move months before, ideally in early spring. This includes researching the moving companies and choosing one to hire. You'd be surprised at how many companies are fully booked by beginning of May. If you don't want to risk being left without professional assistance, you need to think and act quickly.
A summer move has its advantages, but it has a few down sides too. First of all, the finest time of the year is when people go travelling and stay at the seaside, but for you the holiday days will most probably be full of packing and renovating. Second of all, if you are moving with children, you should be prepared for all sorts of reactions and mixed feelings throughout the process. They will find it hard to say goodbye to their friends, school, teachers and familiar places. If you've got the chance, take them to the new location before the move, so they know what to expect. Don't ruin their summer by making them do more than they should. Give them the freedom to arrange their rooms the way they want to and don't pressure them too much. They need time to adapt to the new setting, the neighborhood and the town, before they get to meet their new teachers and start the school year in September. Ideally, you will have at least a month before your children have to start school. This will give you sufficient time to organize the house and do any renovations.
There is a lot you need to know about the moving day in summer. Most importantly, it will probably be quite hot, so wear light clothing made of breathable material and drink plenty of water. The summer move is not as easy as it seems, because you could easily get dehydrated and the team of movers are at risk as well. Make sure you have packed your vehicle for the trip the night before and you are ready to go. Warn your neighbors and ask them to move a few cars away from the parking lot so the moving truck would have enough space. After the move to Richmond, take the time to organize your house or flat and turn it into your home. The after-move process is usually the most challenging one, because it's a lot about organization and designer thinking, then mere shifting of items.