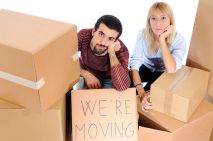 Students, Summer and Storage
18 June 2014
Summer is the best time of year to be a student. Forget about deadlines and lectures, but still enjoy the half price drinks and store discounts. Better yet, it's the perfect opportunity to regress back to a youngster, living back with mum and dad for a few months before term starts again. But what about your student room filled with clothes, books and posters? For many, staying in student accommodation over summer is simply out of the question, so what should you do with all those worldly belongings and how do you get the best deal on moving home for a short period of time?
Storage
Storage may seem like a grown up concept to a student, but it's a great option to safely stow items over the summer break. What's better is storage companies know this, and are willing to offer special offers and discounts to students using their service. Storage space is a great option for international students going home, or even those who have found themselves with a bit too much stuff to take home for summer.
Look at storage companies offering student discount and special offers during the summer months. Storage companies offer a variety of space and sizes, as well as packing items and products and equipment on site to make packing up your things a doddle. Most offer flexible opening hours, if not 24 hours, meaning packing something you realise you miss isn't a problem. Choosing a company close to campus will make packing and unpacking a lot easier.
Removal van
If you have a lot of stuff, and you're either moving home for the summer or are moving into a new place ready for next year, consider hiring a removal van and man. This may seem like a costly expense, but once you've experienced the hassle, stress and chaos of moving across the city, you'd be more than willing to fork out the pounds. A removal van takes any panic out of moving home; simply pack up boxes, fill the van and unload at your destination, leaving you plenty of time to check for lost socks under the bed, or simply to enjoy the sun at the students union whilst everyone else is deciphering public transport with suitcases and boxes.
Look in the local press and online for affordable, local removal vans or a man and a van. Plenty of small businesses will be aware that summer means students moving, so they may have a few special offers of their own. It's always worth asking if there is any discount for using the same company to move back again, and don't be afraid to tell them you'll put in a good word across campus if the price is right.
It's also worth looking into a removal company if you're whole house is moving or if you're simply taking the van to the storage company; for a small price you could completely banish the stress of moving.
Enjoy the summer!
It won't be long until semester starts again, deadlines loom and the clouds turn grey, so removals and storage options are perfect to make sure you enjoy as much of the summer as possible. Keep an eye out across campus and on community websites, perhaps a small company is advertising their van in the students union, and large companies might send flyers through the door offering their best storage deals. It's worth bearing in mind your options no matter how near or far you're moving too, or for how long, whether internationally or just round the corner, as knowing your possessions are in a safe place is a great weight off everyone's mind.