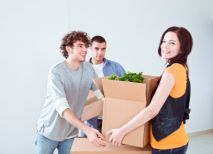 What to Consider When Hiring London Movers
18 June 2014
When you are getting round to hiring a company to help you move house, there will be a huge range of choices all of a sudden. What seemed like a simple case of finding a firm suddenly becomes a treacherous terrain of different prices and vastly varying services. Knowing how to go about getting the right company for you can be extremely difficult as well as very stressful, so if you have no idea as to what to consider when hiring a London removal company, take a look at our useful guide that will help debunk some of the mysteries involved in choosing your perfect London removal team.

Take a decent cross section of the companies in your area and look in to the services that they offer. Is each company suited to your needs, or are they specialists in different areas of the industry? It is pretty pointless to get a quote from a company who only really do office removals on a large scale, in the same way that a man and van will be redundant if you are moving a large household to a different company. When you are sure that you have the right types of company, you can start getting some quotes for your move...

The best way to get a quote form a company, is to have them come round to your house and give you a quote based on how large your move is. You must be sure to have a few different valuations however, as some companies may exaggerate the size of your move in order to get more money from you. Having a few quotes will show you how much they vary and also give you some leverage in bartering with different companies; in that you have been given a better price elsewhere. Competition is your friend, and you can use the qualities of each company against the others in order to get the perfect service for you.

Having the valuations will also let you know which companies you are likely to have a decent relationship with. This is very important, as being friendly and trusting with the head of the move will make everything much less stressful. If you get off on the wrong foot with a company, it can mean that the team are less inclined to give you a good service, and will be more focused on getting paid over keeping you happy. This sort of mentality will be very damaging for your move, and will likely result in a rushed job and even damages.

When you feel that you have found the perfect partnership of client friendliness, service and price, then go ahead and book your removals team. Make sure that you share your plans with the head of the team, and let them know exactly how you want things to go with the move. Your move is very personal to you and you should be completely confident that everything will go as you want it to. Show the company around the house and let them know where all of your heaviest furniture is, so that there are no nasty surprises on the day. Draw up a plan of the new place and make sure that all of the staff are aware as to where things should go when they are being dropped off. Labeling boxes to this effect will also make things much easier in the long run.

We wish you all the luck in the world with finding the right London moving company for you, happy moving!