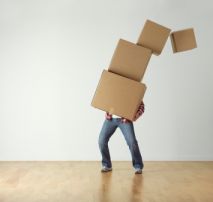 Why Cheap Removals Companies are Better
18 June 2014
You may have run the gauntlet a few times when it comes to moving house or office, and if so, it will often have crossed your mind that the whole process is very expensive, especially when you have just dropped so much money on a new house! If this is the case, you, like many others, will be looking for a clever way to reduce your costs throughout your move, and hearing the arguments as to why cheap removals companies are better may be high on your list. While the services and prices of different companies vary fairly widely, you can never be sure as to the work ethic of the team that you chose, whatever the price. With that in mind, we will run you through the ways in which you can gain a better idea as to whether your removals company will give you a service worthy of saving money on...

Firstly, get a few companies round to your house to look in to how large your move is. Many companies will offer this service, and some for free, so make sure that you are certain that the company is a decent contender before spending any money on an evaluation. These valuations are a good chance to meet the people who will potentially be responsible for overseeing your move, and therefore they present a perfect time to get to know the ins and outs of each company. Remember, your personal; relationship with the movers will make all the difference during the move, so if you don't like the person that comes round, the chances are that you will not have the easiest time dealing with them. It is worth noting however, that there is little use in being best mates with the head of the removals team, if you are being charged through the nose, or being given a slow or lazy service from the rest of the team.

When you have gotten to know the people that you will be dealing with, you can then compare the quotes that you have been given. If you have a decent cross section of the companies in your area offering you quotes, then you can come to understand exactly how large the scale of your move is, as well as how much certain companies may be marking you up, or exaggerating the size of your move in order to drive up the price. Understanding exactly what you need, in terms of manpower, the size of your van, and the time that the job will take, will give you a great advantage in finding the right removal company, as it will stop you being taken in by jargon and hidden costs. Don't be scared to haggle a little to get the price down, as some companies will have a little movement in price range, and you should be getting the best for your money.

If you plan in advance then you will find that prices are lower in the first place, as you will be dealing with companies that are eager to fill their diaries with work. Leaving the job too late will both reduce your options and raise the price, as the companies will know that you're desperate.

Looking over these tips for choosing your company should give you a good idea as to whether to go for a cheaper company or not. If you are fully aware of what you are paying for, and certain that there are no hidden fees, then you may feel it is worthwhile to go for a cheaper service, but until you meet the company rep and hear what they have to say, you'll never know!