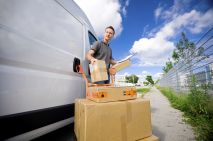 Why Choose a Man with a Van?
18 June 2014
It is definitely a very big task to move from one place to another. It's a very stressful activity to pack everything and move to a new place and then unpack and settle down. Indeed, it requires a lot of planning and effort.
Moving house can be very tiring. In the process of moving one needs to ensure that things are probably packed so that they are not damaged. There are different kind of things in a household which need different degrees of attention. For example, we need to be extra careful while packing delicate items and valuables, such as fine china or collectibles. Whereas bulky item such as electronic goods and furniture may require the help of other people to move.
In a city like London, people are constantly moving around as people from all over the world come to London in search of a livelihood. Moreover, there are thousands students who come each year to pursue higher studies. When it comes to various factors which need to be understood while moving, one of them is definitely the cost involved. If you hire a professionally managed company to handle your removal then you may end up paying a whole lot of money. Hence, people who are on a tight budget should consider other options which are more reasonable.
One of the most reliable options is to hire a man with a van. If you hire a man with a van you not only get the additional help of a man who can assist you with loading and unloading, but you also get his van to transport your belongings.
Reputable companies often offer a man and van service and these tend to be more experienced in loading and unloading bulky items. A man and van service can save you from the burden of carrying heavy and bulky items. Although the service is called "man with a van", you can often hire an additional mover as well, which will still be below the market price. Somebody who is not experienced or is not capable of lifting and loading bulky items could get injured or damage your belongings. Therefore, it is better to rely on an experienced person who is capable of moving your belongings properly.
A man with a van generally charges on an hourly basis and will delivery your things to a new home, office or a storage facility. Already , moving house can be a bit of a problem and involves a lot of anxiety; therefore, it is always advisable to outsource as many jobs as possible to people who are professionals, if your budget allows. By hiring a man with a van you can ensure your peace of mind and the safety of your belongings. This will in turn help you have a relaxed and happy start in your new home.